Stretching across the length of the Indochinese Peninsula, Vietnam is a densely populated country, which has transitioned from a mainly agrarian, centrally planned economy to a market-driven manufacturing and service-based economy.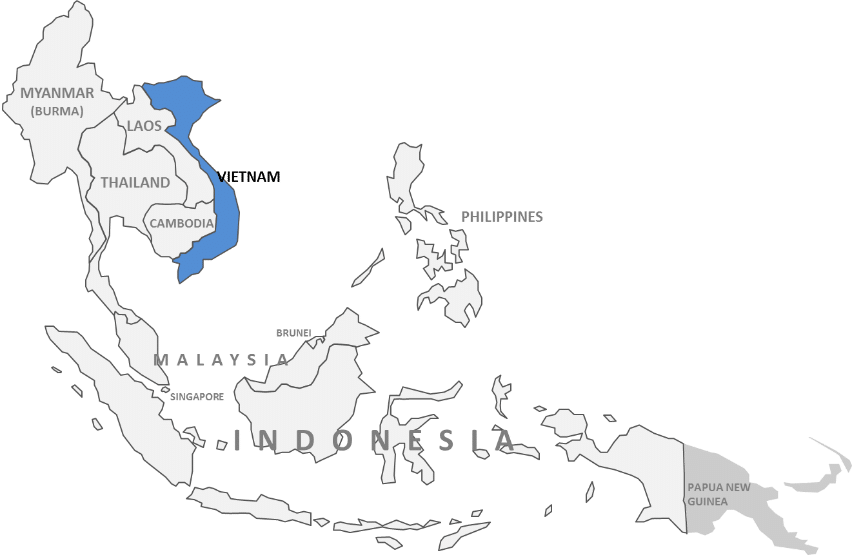 Vietnam's economy grew by 7% in 2019, one of the fastest growth rates in the world. Despite COVID-19, growth has remained in positive territory during 2020, demonstrating the economy's resilience. The country's successful fight against the coronavirus has placed it in a relatively good position to embark on economic recovery and the International Monetary Fund (IMF) projects a rebound to 7% in 2021.
Often referred to as the "next China", Vietnam has been grabbing headlines as a favored manufacturing and sourcing destination over the past few years. The country has emerged as one of the biggest beneficiaries of the US-China trade war.
Manufacturing has been migrating to Vietnam for at the past two decades, making  the country a major producer of shoes, clothes, furniture and other labor-intensive goods. Nike and Adidas now make close to half their sneakers in Vietnam. In the late 2000s, Samsung Electronics set up a plant in Bac Ninh in north Vietnam. Today, Vietnam accounts for 40% to 50% of the company's smartphone output globally.
Recent developments such as the trade war and the pandemic have further accelerated this trend, with plans announced for the manufacturing of more Apple, Google, Samsung, Microsoft , Nintendo and Qualcomm products in Vietnam during 2019 and 2020. There are multiple factors driving this:
More than half of Vietnam's population of 97 million is under the age of 30 and around 70% is of working age, providing an abundant and cheap labor supply, with wages at around half the level of China.
Another supporting factor is Vietnam's numerous Free Trade Agreements (FTAs). Vietnam currently has 13 FTAs in effect – either as a member of ASEAN (Association of Southeast Asian Nations) or on a bilateral basis. Vietnam is also party to the Comprehensive and Progressive Agreement for Trans-Pacific Partnership (CPTPP), while the EU-Vietnam FTA (EUVFTA) entered into force in August 2020.
Vietnam's extensive coastline and proximity to China, especially the manufacturing powerhouse Guangdong, also make it an attractive destination for businesses that need to source goods from China.
The government offers highly competitive financial incentives to businesses seeking to set up operations in the country, in addition to a zero percent withholding tax on dividends remitted overseas and a low corporate income tax rate of only 20%.
While manufacturing value added rose by nearly three times from USD 15 billion in 2010 to USD 43 billion in 2019, the services sector also doubled in size from USD 42 billion to USD 84 billion during the period, led by sectors such as financial services and logistics.
Economic growth has been accompanied by a corresponding rise in income and an expanding middle class. Household consumption expenditure shot up from USD 77 billion in 2000 to USD 179 billion in 2019. Strengthening consumer confidence presenting opportunities for the retail and consumer goods segments.
Industrialization and consumption is also creating challenges and opportunities in areas such as energy and environmental solutions and services. For example, power requirement have been going up by 10% annually and Vietnam has started incorporating renewable sources into its traditional coal and hydro based energy mix. The country has remarkable natural endowments of solar and wind power and within a short period of 3 years the country has developed the largest installed photovoltaic capacity in the Southeast Asian region.
Meanwhile, the country's waste treatment infrastructure suffers from severe inadequacies. For instance, in the two largest cities, Hanoi and Ho Chi Minh City, existing wastewater treatment plants can process only around 20% of total discharge. Significant investments are expected in these areas in the coming years.
To benefit from the opportunities described above in this dynamic market, companies should take the following into consideration:
While Vietnam's government is trying to reduce red tape and simplify regulations, the system remains fairly complicated. It is highly recommended to have local assistance to compliance with regulations, before marketing products into the region. For instance, companies may find their goods stuck at the port for not having the right supporting documents.
Geography is a key factor in segmenting Vietnam's market, in terms of the North-South region. The South is centered on Ho Chi Minh City, the North in Hanoi. Companies targeting the entire country need to consider appointing multiple distributors to target the different regions. For others, either the north or the south might be of interest based on their product or service. For instance, companies targeting public sector organizations and state-owned entities. The electronics manufacturing sector is concentrated in the north. Ho Chi Minh City is a hub for tech entrepreneurs and is usually the first stop for new consumer products looking to enter the market.
Vietnam is actively being targeted by foreign companies and is becoming increasingly competitive, a fact that must be kept in mind by new entrants. Japanese and Korean companies, for example, are investing deeply into Vietnam by working with distributors, as well as setting up their own teams on the ground to build relationships with end users, while also spending on advertising and marketing.
Orissa International can assist companies in navigating the challenges and gaining successful market entry into Vietnam through an array of customized services. Please fill out the form below to speak to our experienced trade and research consultants on-the-ground.