The Philippines has grown into one of the most dynamic economies in Asia, with annual GDP growth exceeding 6% since 2012, driven by strong exports, robust domestic consumption and infrastructure expenditure.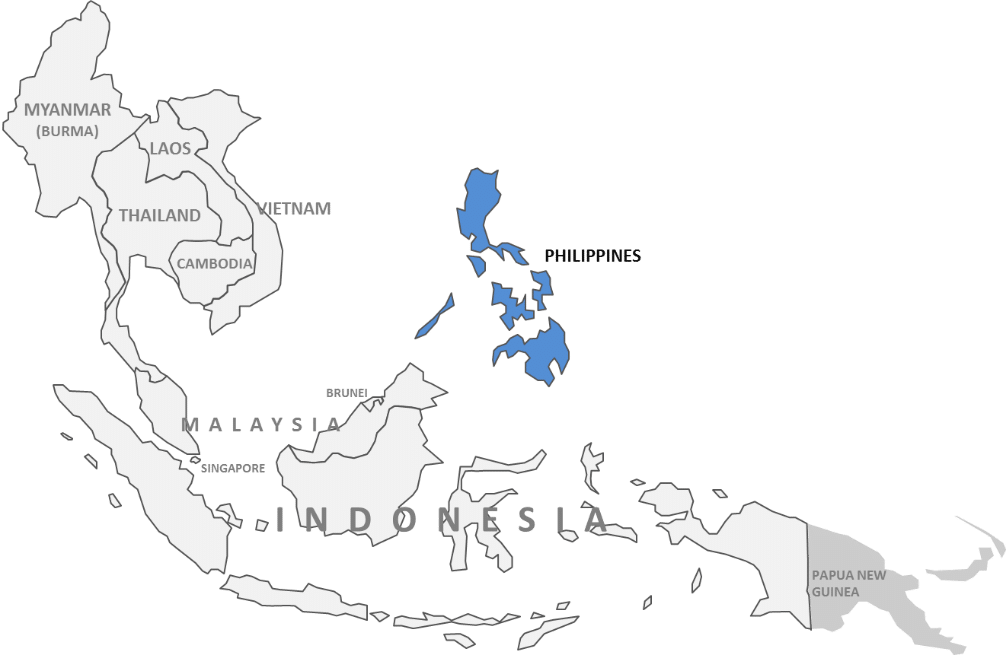 The archipelago of more than 7,000 islands is divided into three island groups: Luzon, Visayas, and Mindanao. Its population of 108 million has a median age of 23.7. Around 30 million young people between the ages of 10 and 24 account for 28% of the population. This large young population is projected to fuel the economy to grow faster than its Asian neighbors over the next 25 years.
Highly educated with a 98.11% literacy rate, Filipinos have a good command of the English language. The country produces over 600,000 graduates each year, enriching the professional pool. This large pool of university-educated, English-speaking and highly adaptable workers has made the Philippines one of the world's top outsourcing destinations. Companies in English speaking countries have been utilizing Philippine-based outsourcing providers for over two decades because they have proven themselves to be efficient providers of quality service. The Information Technology-Business Process Outsourcing (IT-BPO) industry employed 1.3 million and generated USD 26.3 billion in revenue in 2019.
The youth also dominate the ranks of Overseas Filipino Workers (OFWs), 2.2 million of whom sent back USD 33.5 billion of remittances in 2019, accounting for 9.3% of GDP.
The country's young population with growing income levels provides a large domestic consumer base. Consumption stood at 85.7% of GDP in 2019, the highest consumption to GDP ratio in South East Asia. This has made it a highly attractive market for retail and consumer product sectors. From 2015 to 2017 an estimated 200 mid-range and luxury foreign retail brands entered the market. The country is home to some of Asia's biggest malls and "malling" is a national pastime.
While IT-BPO dominates the services sector, key manufacturing areas are mineral processing, pharmaceuticals, shipbuilding, electronics, and semiconductors. The Philippines has more than 300 special economic zones, in which over 4,000 firms are registered with the Philippine Economic Zone Authority. These firms are eligible for the incentives granted by the government by virtue of the Economic Zone Act of 1995. The list of incentives includes tax and duty-free importation of raw materials, capital and equipment, fiscal incentives, and exemptions from local and national taxes except on real property taxes on the land owned by the developers.
In recent years, the construction section has become a key driver for the country's growth. The current administration's 'Build Build Build' infrastructure investment program, valued at PHP 8.1 trillion (USD 167 billion), includes a large number of initiatives such as railways, roads and bridges, airports, as well as new city developments, such as New Clark city, a metropolis being developed over an area of 9,450 hectares within the Clark Special Economic Zone. When completed, New Clark will be able to accommodate up to 1.2 million people and support a host of projects, including the burgeoning IT-BPO industry.
Companies which want to explore opportunities for their products and services in this exciting market should take the following into consideration:
Logistics costs in the Philippines are among the highest in Southeast Asia. According to the Department of Trade and Industry, the country's logistics costs account for 24% to 53% of wholesale prices, while shipping and port handling costs cover 8% to 30%, depending on the goods' route, and roughly 5% of the retail price of goods.
Companies new to the country usually start with the capital Manila. The National Capital Region with a population of 12.9 million contributes 36% of the national GDP. But depending on the product or service, it could be worthwhile for companies to look at other fast-growing cities such as Cebu, Davao and Iloilo.
The Philippines may have a lucrative consumer base, but it remains a price-sensitive market. Hence, pricing strategy is important and negotiations on payment terms should be expected. In addition, it is important for foreign companies to know the regulatory environment before entering.
Business relationships in the Philippines are heavily dependent on personal relationships, with business being done with people, rather than with companies. If you change representatives in the middle of negotiations, you may have to start over. Filipinos also prefer to avoid confrontation, which makes it's difficult for them to openly say "no". Foreign companies should note that a "yes" may not really be a yes, but could mean "perhaps". As such, it's important to get a written or documented agreement at each stage of negotiations.
Orissa International provides a range of services, including business matching and market research to assist foreign companies with market entry into the Philippines. Please fill out the form below to speak to our experienced trade and research consultants on-the-ground.