Centrally located within South East Asia and sharing its borders with Myanmar, Laos, Cambodia and Malaysia, Thailand is an upper middle-income economy.
While the greater Bangkok metropolitan area is the preeminent urban center in the country, other sizable cities include Chiang Mai in the north, Nakhon Ratchasima (Khorat), Khon Kaen, and Udon Thani in the north east, Pattaya in the south east, and Hat Yai in the far south.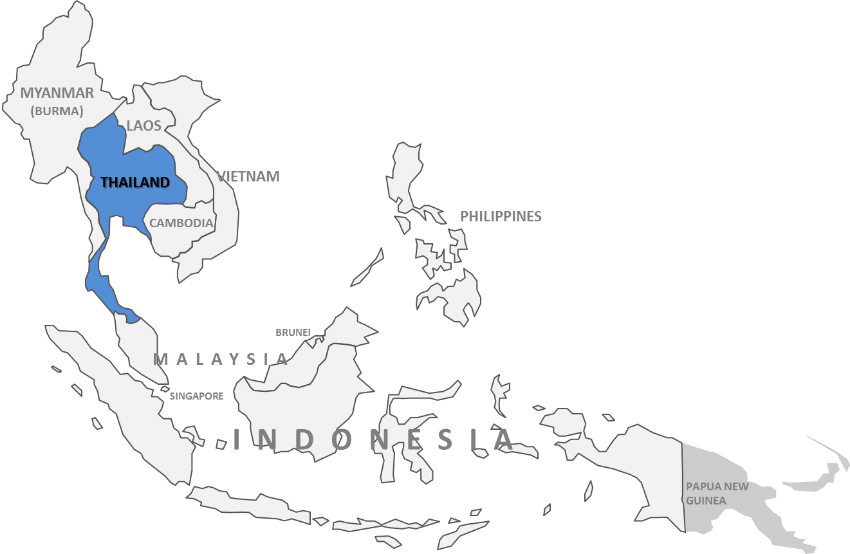 Thailand's population of around 69 million is ageing rapidly, at one of the fastest rates in the developing world. The percentage of citizens aged 60 or older reached 17% in 2019 and is projected to reach nearly 30% by 2050.
Interestingly, this has been a driver for the development of the Thai healthcare system, which was ranked sixth 2019 edition of the CEOWORLD magazine Health Care Index. Thailand boasts some of the region's best hospitals, such as Bumrungrad International Hospital and Phayathai Hospital. It is the among the top five destinations of inbound medical tourism. Tourism overall has been a mainstay of the economy, with spending from foreign tourists accounting for 11% of GDP in 2019.
The economy of Thailand is highly export-oriented, with exports accounting for nearly 60% of GDP in 2019. Reflecting the country's commitment to economic openness, Thailand is a participant in a large number of bilateral Free Trade Agreements (FTAs), as well as the ASEAN Free Trade Agreement (AFTA). Businesses in Thailand can engage in virtually tariff-free trade with 17 different nations, including Australia, China, Japan, New Zealand, South Korea, and India in addition to the other 9 ASEAN Association of Southeast Asian Nations) members.
The country's exports are backed by a strong manufacturing base. Thailand is one of the most industrialized countries in Asia. Electronics, automotive and food processing are among the major industries. It has the largest automotive manufacturing base in Southeast Asia and is the 11th largest producer of vehicles in the world. The country is the world's second largest exporter of air conditioners and hard disk drives.
Thailand's food sector is also among the most developed in the region. It is the world's top exporter of canned tuna, canned pineapple, sweet corn, coconut milk, cassava, and durian. Although not a predominantly Muslim nation, it is the 9th largest exporter of halal products. It is also the 11th biggest global supplier of ready-to-eat meals.
Industrial development has been supported by well-developed logistics infrastructure, which the government is currently further strengthening. Thailand's development plans for the coming decade include a high-speed rail network which will connect Bangkok with the north, south, east and west of Thailand as well as to the southern part of China.
In 2016, the Thai government unveiled the "Thailand 4.0" strategy aiming to develop an economy driven by innovative technology-based manufacturing and services. In 2018, as part of Thailand's 4.0 strategy, the government earmarked a new 13,000-sq-km special economic zone called the Eastern Economic Corridor (EEC) in the Chachoengsao, Chonburi and Rayong provinces to attract investors. USD 45 billion was allocated for the development of the EEC.
The strategy focuses on 10 industries: smart electronics, high-income and medical tourism, agriculture and biotechnology, food and beverages, automotive, robotics, aerospace, digital services, bio-energy and bio-chemicals, and healthcare. In 2019, investment applications worth around 14 billion were received for the EEC.
The following are some key points for businesses to keep in mind while planning market entry into Thailand and benefit from the opportunities described above:
The Board of Investments (BOI) in Thailand offers an extensive range of generous tax and non-tax incentives to attract investors. The BOI also links investors with government agencies and the private sector to facilitate business operations such as company establishment and work permit application process and provides support on industrial linkage and sourcing of local suppliers.
Many businesses which set up a company in Thailand use it as a base to target to the neighboring CLMV (Cambodia, Laos, Myanmar and Vietnam) region, where newly emerging markets offer untapped potential.
Thailand is ranked at a high 21st position among 190 countries in the World Bank's Ease of doing business index in 2019. Though Thailand has improved significantly in ease of doing business, foreign companies would still encounter bureaucratic and regulatory hurdles during activities such as imports, product registration or setting up a local entity.
Local on-the-ground presence can be a great asset while doing business in Thailand. Having own staff with deep market knowledge or a good partner with an established network can be key to long-term success.
It is important to highlight that Thais have a markedly formal business culture. The concept of 'face' is also crucial in business interactions, as people seek to protect their reputation. Foreigners should avoid embarrassing situations or putting their Thai counterparts in a difficult position. Moreover, personal relationships are key to a successful deal in Thailand, and it is advisable that foreign companies wishing to penetrate this market appoint local distributors with a solid network.
Orissa International has its own office in Bangkok and can assist foreign companies seeking market entry into Thailand. Our services include market research, business matching and the Market Immersion Program (MIP) where we hire a local employee for the client under our own payroll. Please fill out the form below to speak to our experienced consultants.