With over 276 million people, Indonesia is the world's fourth most populous nation. It is South East Asia's largest economy with a GDP of USD 1.1 trillion in 2019 and ranks as the 7th largest in the world in terms of GDP at Purchasing Power Parity, and 16th by nominal GDP. According to PwC, it is poised to become the fifth-largest world economy by 2030.
Major sectors include manufacturing (tobacco, food and beverages, transport equipment and machinery), mining, construction, transport and communication, finance and real estate. The sheer size of the country presents huge opportunities in areas ranging from construction and mining to healthcare and consumer products.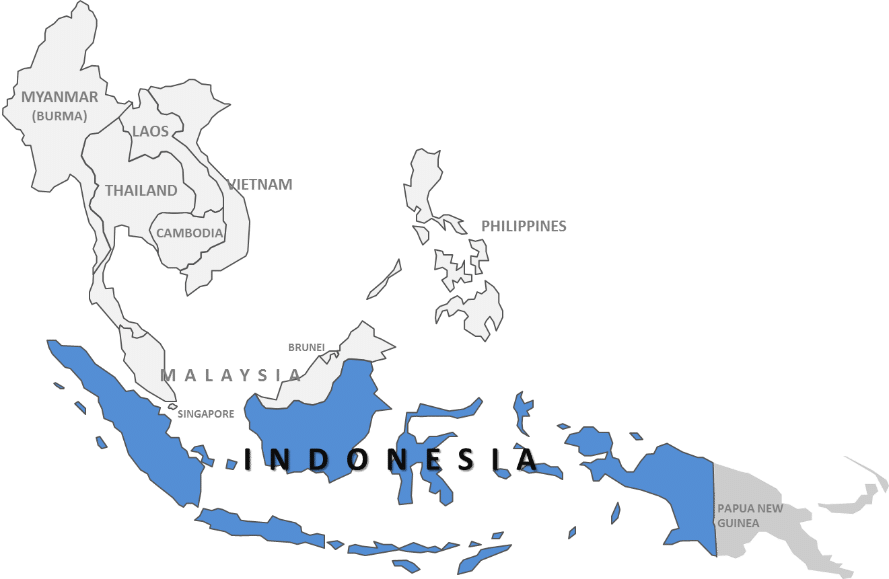 Indonesia has a rapidly urbanizing population and an abundant supply of young labor. Over the past 15 years, Indonesia's middle class has grown from 7% to 20% of the population, with 52 million Indonesians currently belonging to this group. Despite growing income levels, average incomes are considerably lower than other mature markets in the region. Medium-to-high income groups are concentrated in major cities and urban areas.
Indonesia's capital Jakarta is South East Asia's largest city and the country's main commercial hub. Greater Jakarta has a population of around 35 million and generates almost a fifth of the country's GDP. But Indonesia's fast-growing second-tier cities, which include Surabaya, Bandung, Medan, and Semarang, are becoming increasingly attractive markets and investment destinations.
The country has substantial mineral reserves, with significant production of coal, copper, gold, tin and nickel. Indonesia is one of world's largest exporters of thermal coal. The country also has a large manufacturing base, comprising both labor-intensive industries, such as food & beverages and textile & garment, as well as capital-intensive industries such as automotive, electronics, and chemical products.
Another highlight of the country is its digital economy. It has the largest and fastest growing internet economy in Southeast Asia, valued at USD 40 billion in 2019, more than quadrupling in size since 2015 at an average growth rate of 49% a year. It is on track to surpass USD 130 billion in value by 2025, according to a  2019 study by Google, Temasek and Bain & Company. Indonesia is also home to five out of southeast Asia's six tech unicorns. These include an on-demand transport and logistics service provider (Gojek), a hotel and flight booking platform (Traveloka) and two B2B/B2C online marketplaces (Bukalapak and Tokopedia).
The Indonesian government has been taking steps to help the country realize its enormous potential. In the last four years, the Indonesian government has released sixteen Economic Reform Packages, which are intended to stimulate investment, including foreign investment, strengthen competitiveness, and diversify the economy. The government's efforts to prioritize infrastructure and development are gaining the confidence of global and local investors. The Banten-Jakarta-West Java corridor is being developed to boost exports, while the Palapa Ring project demonstrates the government's commitment in enhancing Indonesia's nationwide 4G infrastructure.
We would advise foreign companies seeking to benefit from Indonesia's growth story to take the following into consideration:
The manufacturing sector is concentrated on the main island of Java where manufacturers can benefit from more efficient and developed logistics and transport infrastructure on the island.
Indonesia has the world's largest Muslim population. For consumer products, halal certification is a must to tap on to the mass market. A new law which came into effect in October 2019 aims to apply halal labeling requirements on not just food and beverages but also on cosmetics and drugs by 2022.
While significant steps have been taken by the government to reduce trade barriers through deregulation, foreign suppliers looking to enter the Indonesian market are often deterred by opaque regulations and complex time-consuming bureaucracy. The archipelagic nature of the country requires foreign companies to pay close attention to issues relating to infrastructure, warehousing, delivery, distribution and after-sales service. Indonesia's fragmented distribution chain might cost foreign companies down the line, if the risk is not properly identified at the initial stages of market entry.
Foreigners seeking to do business in Indonesia might find that the country is not the easiest country to do business in. A good local partner can help address issues such as product registration, customs clearance, import licenses, regulation compliance, as well as navigate cultural and legal complexities. While having a local partner is helpful, we also recommend that companies have their own presence on the ground to push sales.
Indonesia is one of those markets where we strongly recommend clients do market research because it is important to know if there are import regulations and barriers that will impact your sales in the market. We have seen many companies go in and out because they did not take this into consideration.
Orissa International assists companies with market entry into Indonesia through customized services, such as market research and business matching. Please fill out the form below to learn more about the Indonesian market and how we can help.